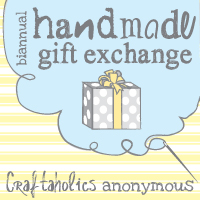 I have never heard of this but it's a really cool concept. I found this great post while reading Google Reader & wanted to help spread the word. Linda @ Craftaholics Anonymous hosts The Handmade Gift Exchange twice a year. For this one you can sign up until June 6th.
How it works is you get paired up with another crafter. You make a crafty gift & you mail it to them. They in turn make one and mail it to you. Gifts are mailed by June 30th. You never know what you will get!
There are 2 groups of crafters: North America & International so anyone can participate!