Okay, if you serge, then you know all about the loose serged tails/ends hanging off. How in the heck do you get those pesky things tied off so that they don't unravel and still make it look great?!
There is probably a tutorial online already for this but I wanted to do my own since the idea came to me and it turned out great! For this, you WILL NEED a large eye needle. I think they are usually found in the embroidery floss section.
WHEN I TOOK MY FABRIC OFF THE SERGER I HAD ABOUT 2 INCHES HANGING. YOU MAY DO MORE IF YOU LIKE.
"GENTLY" PULL THE THREADS UNTIL THEY ARE SORT OF STRAIGHT.
TAKE YOUR BIG EYE NEEDLE AND INSERT IT BETWEEN THE 2 LAYERS OF FABRIC. THEN POKE IT OUT ABOUT 1 INCH AWAY. I FOUND IT EASIER TO INSERT THE NEEDLE THEN THREAD THAN TO DO THE NORMAL THREADING THEN INSERTING.
TRIM YOUR THREAD WHERE YOU SEE 2 OF THE THREADS ENDING.
I FOUND IT EASIEST TO WET THE THREAD ENDS TO GET THEM ALL TO GO INTO THE EYE OF THE NEEDLE. OR YOU COULD USE A NEEDLE THREADER - THEY GENERALLY LOOK LIKE A SILVER COIN WITH A DIAMOND SHAPED WIRE HANGING OFF THE COIN OF THEY ALSO COME IN OTHER DESIGNS. MINE HAPPENED TO BREAK FROM A PREVIOUS BEADING PROJECT SO I HAD TO IMPROVISE.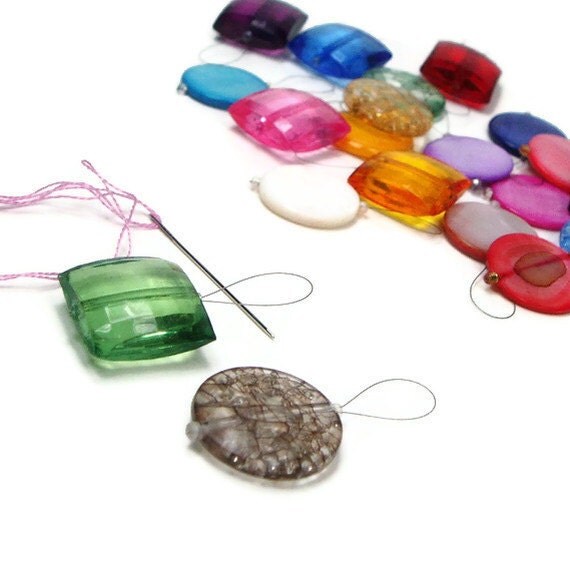 TJB DESIGNS HAS THESE REALLY COOL LOOKING HANDMADE BEADED NEEDLE THREADERS THAT I JUST FOUND ON ETSY. SHE HAS THE SQUARE OR THE ROUND SHAPES TO CHOOSE FROM.
"GENTLY" PULL THE NEEDLE THRU
HALF WAY THERE. KEEP GENTLY PULLING.
EASY SUCCESS!
CLIP YOUR LOOSE THREADS CLOSE TO THE FABRIC
SEE HOW GREAT YOUR FINISHED END LOOKS!
I HOPE THIS TUTORIAL HAS HELPED!