I recently made a post about this block. It was just asked of me to delete the post, so I reverted it back to a draft. It was not my intention to get anyone in trouble. I decided to create a new post & will go ahead and include the video by the original pattern maker and my own notes as well as pictures that I found online of finished blocks formed in the same matter.
KARIN HELLABY'S PINEAPPLE PLUS TUTORIAL VIDEO, VERY GOOD EXPLANATION
The Pineapple Plus Block was created with 4 colors in mind as shown below.
I have also seen this block made with 3 colors, 2 different colors and even a single color as shown below.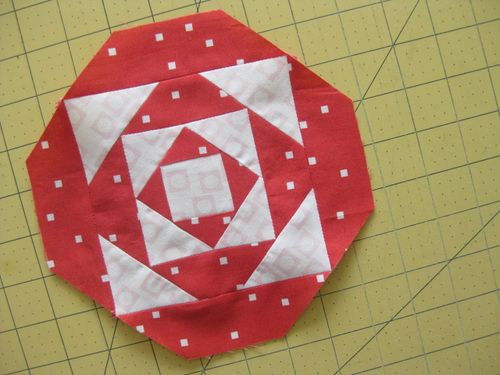 SINGLE COLOR PINEAPPLE PLUS BLOCK, KEEP IN MIND THAT THIS BLOCK IS TRIMMED AT THE CORNERS WHICH IS DIFFERENT THAN THE ORIGINAL BLOCK PATTERN.
A SCRAPPY ALTERED PINEAPPLE BLOCK THAT WAS CREATED WITH THE CORNERS SNIPPED OFF AS SHOWN IN THE RED/WHITE BLOCK ABOVE. THE ORIGINAL PATTERN DOESN'T SNIP OFF THE CORNERS WHEN ADDING ON THE NEXT LAYER. I DO LOVE THE LOOK OF THE SCRAPPY PINEAPPLE THOUGH.
THIS BLOCK SHOWS THAT EACH LAYER HAS 2 SAME DIAGONAL COLORS AND EACH NEW LAYER IS DIFFERENT IN COLOR THAN THE REST.
ANOTHER SINGLE COLORED PINEAPPLE PLUS BLOCK. AS YOU SEE, EACH NEW LAYER GETS BIGGER TRIANGLES.
@
~ * ~ * ~ * ~ * ~ * ~ * ~ @
BREAKDOWN OF HOW TO MAKE THE BLOCK
Keep in mind that you can make any size blocks that you like, you just start with the center diamond size that you want, then figure out each layer size as you go along. THE ABOVE VIDEO IS THE TUTORIAL. If you decide to create your own size block, I would use paper as a fabric replacement and write down the dimensions of each layer as you make them. This way when you are ready to actually sew with fabric, you are all set with measurements.