I am part of a local
FreeCycle
group from which I have gotten some nice stuff. I was totally excited to get this vintage sewing machine, still working and it was totally FREE. If you don't know what
FreeCycling
is...............it's a network of people, usually within a county or metro area that offer stuff that they no longer want or need. Some of the stuff is new, most gently used, some broken, etc. I usually go for the new or gently new stuff. I have offered some things to the group as well. If there is something that you want or need you can send a 'WANTED" email to the group to see if anyone has it. You can find anything and everything offered to the group (electronics, appliances, furniture, pet stuff, plants, jewelry, perfume, clothes, shoes, bedding, curtains, home decor, etc).
There are over 5,000
FreeCycle groups
all around the globe. Click the image below to see if there is one in your area. If there isn't, you can start one yourself or with a group of friends/relatives.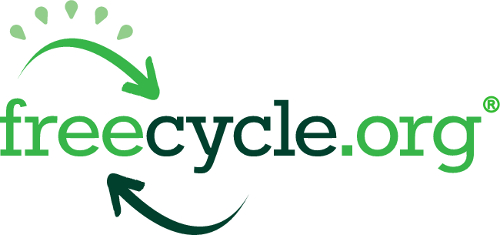 Anyway, onto my new baby.
A VINTAGE SEWING MACHINE IN A CABINET! I plugged it in, turned it on, pretended to stitch a couple of stitches. It works. I just don't know what all the dials are for and certainly don't know how to thread it or setup the bobbin thread. IF YOU KNOW ABOUT THESE KINDS OF MACHINES, I AM ALL EARS! I don't plan to use it. Will be more for decoration since I have wanted a sewing machine cabinet for a while now.
BELOW ARE UPCLOSE PICTURES OF THE ENTIRE THING
BELOW ARE THE "DECORATIVE STITCH CARTRIDGES", WHICH I HAD NEVER SEEN BEFORE. EACH CARTRIDGE HAS 2 STITCHES, ONE ON EACH SIDE.
BELOW IS MY "BLUE EYED BEAUTY" EEVEE BEING NOSY AS USUAL